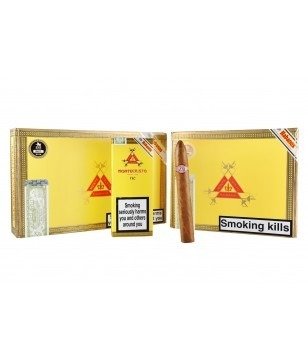 MONTECRISTO NO. 2
₹3,800.00
Strength: 3 out of 5
Vitola: Piramide
Length: 6 1/8"
Minimum Smoking Time: 40-60 minutes
Ring Gauge: 52
Country of origin: Cuba
Description

The quintessential Monte. Cigar Aficionado Magazine's 2013 Cigar of the Year, and a favorite of many, many smokers. Difficult to go wrong with, as it's flavorful, approachable, easy to appreciate, and distinctive. More leather present from the start than some Montecristos, the brand's signature black pepper and cool earth are obvious from the get-go. A little too easy to smoke past the band if you can handle it, as it's thick ring gauge does a great job of not having the smoke overheat, even if you smoke at a quicker than average pace. Has always lived up to the hype, and probably always will.

STORAGE

For all cigars we advise that they are stored in a humidor at approximately 18°C and between 65-70% relative humidity.
If no humidor is available, we would recommend a plastic zip-lock bag with a small spray of distilled water. This will keep the cigars fresh for up to three months.