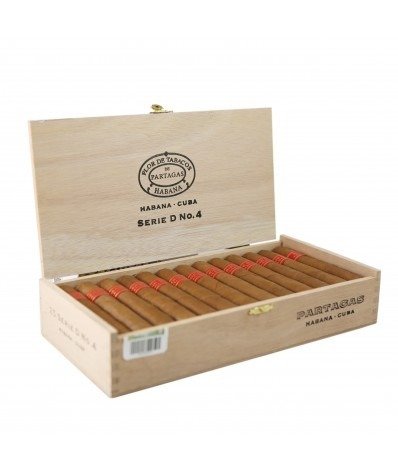 PARTAGAS SERIE D NO. 4
₹1,600.00
Strength: 4 out of 5
Vitola: Robusto
Length: 4 7/8"
Minimum Smoking Time: 30-40 minutes
Ring Gauge: 50
Country of origin: Cuba
Description

The Robusto of choice for the majority of aficionados who favor the shorter, thicker vitola, the Partagas Serie D no. 4 provides plenty of cool, full flavor in timely fashion. Very leathery toward the binder and wrapper, with a base comprising of more earth than cedar notes, the signature spice note is certainly detectable from the beginning, becomes stronger throughout, but never overwhelms heading into the finish. Very well balanced, and very well constructed, the D No.4 is a must smoke, as well as a great introduction to fuller flavored cigars.

STORAGE

For all cigars we advise that they are stored in a humidor at approximately 18°C and between 65-70% relative humidity.
If no humidor is available, we would recommend a plastic zip-lock bag with a small spray of distilled water. This will keep the cigars fresh for up to three months.